Language switch Japanese Spanish Chinese
Mechanical Seals
TOP > Service Solutions > Mechanical Seals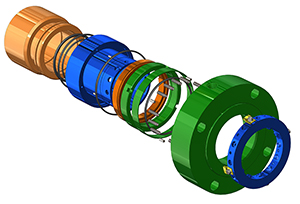 Torishima is a mechanical seal manufacturer as well as a pump manufacturer and we have been making seals for more than 60 years, both for our own pumps as for other brand pumps. We therefore have a deep understanding of the importance of the seal performance in relation to the reliability of the pump. We offer a wide range of services such as gland packing to mechanical seal conversions, seal upgrades and retrofits for Torishima and non-Torishima mechanical seals, and seal repair and refurbishment services.  

With all seal conversions, retrofits and upgrades, detailed information is gathered from the customer in order to ensure correct (re)selection of the mechanical seal before upgrading or retrofitting. Very careful attention is given to the operating parameters of the seal. In addition, by utilizing our pump experience, we also consider the operating conditions of the pump to determine if there are any pump operational impacts on the mechanical seal. It is crucial that the correct seal type, design, materials and seal support system (flushing plan, cooling plan etc.) are selected. With this selection and any possible recommendations to improve pump operation, we aim to ensure the longest possible seal life for the customer and plant.
Needless to say, our main goal is to offer an improvement or benefit to the customer in the form of quality, price, design and/or material capabilities or lead time.
Upgrades and Retrofits
Below is a typical flow chart to illustrate the seal upgrade and retrofit process.
This includes seal type e.g single to double, component to cartridge, non-Tori Seal toTori Seal to name a few.
Component Seal
Cartridge Seal
Gland Packing to Mechanical Seal Conversions
For the conversion from gland packing to a mechanical seal, a technical evaluation of the pump is conducted to determine if and what kind of parts modifications are required. The ultimate goal is to provide a more reliable, efficient and environmentally friendly sealing solution with minimal invasive modifications.
Gland packing
Mechanical seal
Common required parts for upgrade
| | | |
| --- | --- | --- |
| Mechanical seal (×2) | Seal cover (×2) | Gaskets, O-rings (2 sets) |
| Seal sleeve (×2) | Bush (×2) | Bolts, nuts (2 sets) |
Repairs and Refurbishment
During the seal repair process, all parts are inspected for wear, critical tolerances and possible failure modes to determine
if they can be reused or need to be replaced. If seal faces can be reused, they are re-lapped and O-rings,
springs and fasteners are replaced.
After completion, the integrity of the seal will be virtually as per new condition.
Tori Seal Retrofit Example Case Histories
Ask a question about Tori Seal
Person in charge

| | |
| --- | --- |
| Peter-Paul van der Meulen | m-peter@torishima.co.jp |
PAGETOP