Be a company that is indispensable to society by continually improving our products
to meet the challenge of an ever-changing world
For more than a year now, much of the world has been in a perpetual state of lockdown. The COVID-19 pandemic has shown humanity and the global environment to be far more easily threatened than we had imagined. In light of this realization, the world has begun taking action to achieve environmental sustainability alongside economic growth. This is being pursued via a green growth strategy for carbon neutrality by 2050. In October 2020, Japan also announced its pledge to go carbon neutral by 2050. Every company in every industry and sector, no matter how large or small, is considering what concrete actions it can take to contribute to this effort.
Since our founding, Torishima has been contributing to society by providing it with pump technology essential for daily life. However, as we embark on our second century of business, we are taking this commitment to another level. Based on a long-term mission for 2050 to help make society more carbon neutral while achieving business growth, we have established a clear vision for making Torishima a company indispensable to society.
Specific targets for achievement by fiscal 2029: Beyond 110
In 2049, the year before the world's 2050 carbon-neutral target, Torishima will mark its 130th anniversary. But for 2029, twenty years before that and our 110th anniversary, we have set a major milestone target. This is our "Beyond 110" New Medium-Term Business Plan. It consists of two main elements. One is the continued development of our existing technological strengths to ensure we have a commanding lead in those areas. This represents business through which we can already be contributing to society in the short term. The other main element of the plan involves developing new and innovative technologies. This represents business through which we can contribute to society in the medium to long term.
The first of our business focuses to contribute to society in the short term is our energy-efficiency initiative, "Go Green with Pumps," which was launched in fiscal 2009. In recognition of our steady efforts, we received an award in the Energy Conservation Grand Prize program in fiscal 2014. The key word these days is "decarbonization," and we will use our technological innovations to achieve further energy efficiency in our pumps. We will promote the spread of these Super Eco-Pumps as a means of significantly reducing power consumption and CO₂ emissions.
The second business focus is technology for specially designed pumps to mitigate heavy flooding. This was introduced to the market around fiscal 2009 to help address climate change. We have been receiving increasing orders over the years for products using this pump technology. This growing popularity is taking place against a backdrop of increased flooding in recent years, and more orders are expected for new pumps to replace aging units. A great deal of infrastructure in Japan was built during the country's era of rapid economic growth, and the next 20 years will see much of this infrastructure passing the 40-year point in its lifespan. Pumping stations are no different. We will contribute to the construction of safer and more reliable infrastructure through cutting-edge technology, which addresses the critical social issues of deteriorating infrastructure and climate change.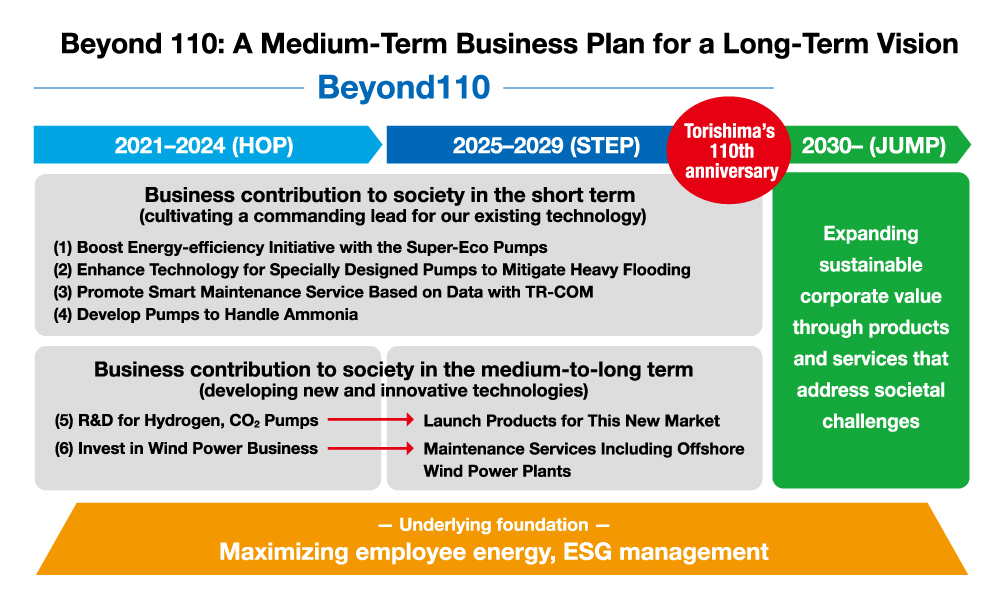 DX in the form of TR-COM-driven smart maintenance to expand service solutions business
The third business focus is TR-COM, a rotating equipment monitoring system. Since its release in fiscal 2018, the number of orders for this system has been steadily growing. Many prominent companies, including major power companies and steel manufacturers, have installed this system for its unparalleled ability to detect potential problems at an early stage. We have already accumulated a great deal of data via TR-COM. The COVID-19 situation has prevented maintenance staff from visiting pump facilities. And a shrinking workforce is hindering young trainees from receiving technical training from experienced employees. We want to facilitate DX through TR-COM's data-based smart maintenance, thereby enabling more efficient inspection and maintenance of customers' pump facilities. We are excited about the work we are doing on this system, as we are keen to see how it will continue to evolve in the future.
Finally, we are exploring the use of ammonia as a promising resource with great potential for next-generation energy production. A number of projects in this area are already underway both in Japan and overseas, and this has resulted in a good deal of interest and inquiries about Torishima pumps. Developing pumps capable of handling ammonia requires sophisticated technology, and, as one of the companies with the requisite technological foundation, we are researching how to enhance this technology further in expectation of future market expansion.
These are the four business focuses which we have already begun and which we are continuing to strengthen in order to contribute to society in the short term.
Pursuing R&D focused on the realization of a hydrogen-based society
With regard to contributing to society in the medium-to-long term, which is the other core element of our business plan, our first area of focus is on developing hydrogen technology that will facilitate the achievement of carbon neutrality. On Earth we have access to an inexhaustible supply of hydrogen, which can be produced from a variety of resources. It is extremely energy-efficient and produces zero CO₂ emissions. It is touted as being a true "dream fuel"; however, it must be converted into its liquid form because it is difficult to transport and store in its gaseous form. This is where the demand for pumps arises and, hence, where Torishima is focused. Liquid hydrogen is difficult to handle, as it requires a temperature of -259°C, which creates a number of hurdles that must be overcome, but we believe that the potential benefits are significant enough to justify the full investment of our R&D resources.
The second business challenge we are working on is wind power. The Japanese government has committed itself to a target of 90 GW of offshore wind power generation by 2050. When combined with onshore wind power, the total power generated will be 130 GW, which represents an extremely large market expansion. Torishima is already involved in wind power-related maintenance business through EOS Engineering & Service Co., Ltd. (EES), in which we have a 49% equity stake. We plan on making it an even greater focus moving forward. We will expand our business in this area via an alliance of human and financial resources with Japan Wind Development Co., Ltd., one of the industry's largest wind power developers and an EES joint venture partner. By combining Torishima's maintenance-related technology and expertise as a rotating machinery manufacturer with that of these two wind power-related specialist companies in order to achieve the greatest synergy possible, we will position ourselves to capitalize on future market expansion.
Our plan for these two areas of business contribution to society in the medium-to-long term is to have a firm foundation in place by 2024. This will be followed by the introduction of practical applications in fiscal 2025, followed by full-scale business expansion from fiscal 2030 onward. On the bottom are the numerical targets for the Beyond 110 New Medium-Term Business Plan, centering on the specific initiatives we will pursue in the short, medium, and long term.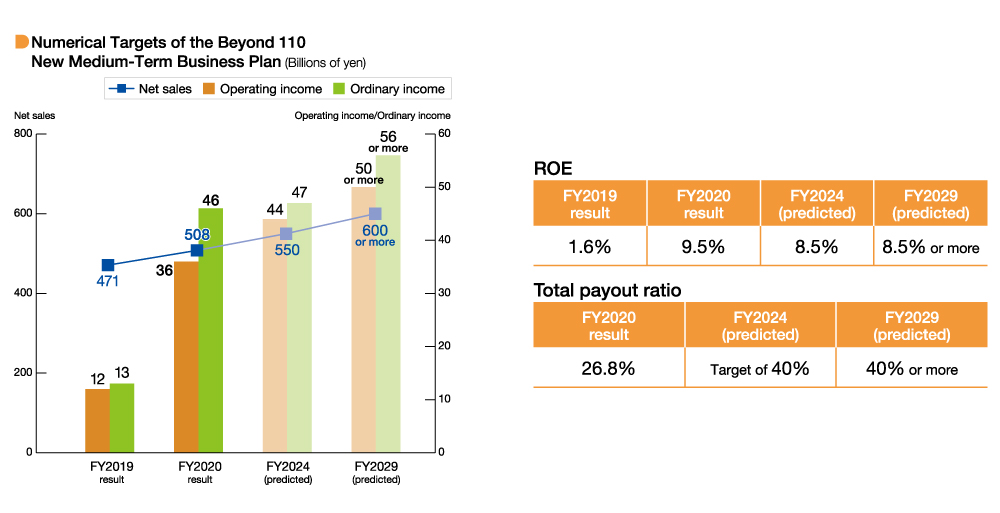 We are also more committed than ever to ensuring a return for our shareholders, one of our most important stakeholder groups. Although our policy has been to provide stable dividends with a payout ratio of 30% regardless of company performance, moving forward we will put in place a more secure earnings structure that will allow us to continue providing stable dividends with a total payout ratio, including treasury share acquisition, of at least 40%.
Maximizing employee energy— the other foundation of Beyond 110
It goes without saying that employees are needed to pursue our various initiatives. Whether or not we are able to realize this plan and, through it, make an even greater contribution to the world depends on our people. If we can maximize the energy of all employees, our dream of making Torishima a company indispensable to society will certainly become a reality. The future of Torishima depends upon the growth and development of each and every employee.
In March 2021, our new head office factory was completed in Osaka, Japan, providing us with a new setting in which to foster employee growth and development. Based around a concept of "togetherness," this new facility creates an integrated space that brings the manufacturing site together with sales, technology, production, and administration under one roof. This space will facilitate strong synchronization of employee goals and actions with the new medium-term business plan and faster completion of the PDCA cycle, thereby enhancing the feasibility of the business plan. This, in turn, will produce an "EVOLUTION," which is distinctively Torishima as we do our part—as a company indispensable to society—in realizing a carbon neutral world by 2050.