Language switch Japanese Spanish Chinese
ESG Environment
TOP > About Us > Corporate Social Responsibility (CSR) > ESG Environment
In the environmental area of CSR, Torishima focuses on contributing to the environment through its products and business activities, while also lowering the environmental burden of all its business activities.
Torishima Environmental Policy
Philosophy
At Torishima, we believe that protecting the Earth's natural environment is a vital task that must be addressed by all mankind. In a quest to create a global environment of natural beauty conducive to pleasurable living, for the sake of the planet and all its inhabitants, through the provision of pumps and other environmentally friendly products, we supply environmentally sustainable systems engineered to enrich living environments everywhere. Meanwhile, through production activities in harmony with environmental demands and the provision of products having minimal environmental loads, we strive to contribute to the formation of a developmentally sustainable society on a global scale, to ensure the continuation of a healthy global environment well into the future.
Activities
To carry out the foregoing philosophy into practice, we undertake the following activities:
1)

Development and supply of highly efficient, environmentally friendly pumps, as a way of contributing to energy savings.

2)

Development and supply of wind power and hydropower generation systems that use natural energy sources, as a way of contributing to reduction of CO2 emissions.

3)

Provision of technologies targeting reuse of waste materials, as a way of contributing to enhanced recycling of natural resources

4)

Proactive promotion of reductions in environmental loads and prevention of environmental contamination based on environmental assessment results

5)

Ongoing enhancement of environmental management systems in order to raise environmental performance

6)

Compliance with environmental laws, regulations, and other appropriate demands, and formulation of and compliance with in-house rules

7)

In the performance of production activities, pursuit of energy and natural resource savings, recycling, waste reduction, and proper management of chemical substances, as a way of lightening environmental burdens
1st April 2020
TORISHIMA PUMP MFG.CO.,LTD.
President & CEO
Kotaro Harada
/>
ISO 14001-Certified Torishima Group Companies and Offices
Torishima actively seeks to preserve the environment by proactively acquiring ISO 14001 (Environmental Management System) to branch offices and subsidiaries as well as the headquarters.
| | |
| --- | --- |
| Date | Registered Organization |
| July 1999 | Torishima Pump Mfg. Co., Ltd. head office and factories (Japan) |
| March 2004 | P.T. Torishima Guna Indonesia (Indonesia) P.T. Torishima Guna Engineering (Indonesia) |
| May 2005 | Kyushu Torishima Co., Ltd. (Japan) |
| September 2010 | Torishima Service Solutions Europe Ltd. (U.K.) |
| May 2012 | Torishima Tokyo branch; Sapporo, Sendai, Nagoya, Osaka, Takamatsu, Hiroshima, and Kyushu offices; Yokohama, Saga, and Okinawa sales offices (Japan) |
| August 2012 | Torishima Pump Mfg. Co., Ltd. Qatar Project Office (Qatar) |
| January 2013 | Torishima Pump Mfg. Co., Ltd. Middle East Project Office (U.A.E.) |
| July 2013 | Torishima Pump (Tianjin) Co., Ltd. (China) |
【Scope of ISO14001 certification of Torishima Pump Mfg.Co., Ltd.】
・Registered organization: Head office and head office factory (including cooperating companies in the factory), branch offices / branches / sales offices
・The scope of registration:
1) Development, design, manufacture and repair work of pumps and related parts for liquid pumps, mechanical seals, electric motors and the stuff.
2) Devevlopment, design, execution management for construction, and installation and operation management for water treatment and sewage disposal facilities including pump plants, and wind power generation system
ISO14001 Registration update / Transition to the 2015 version standard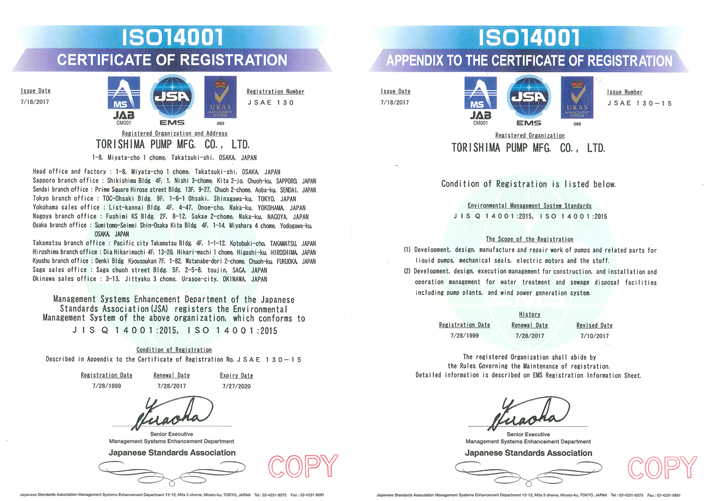 ISO14001Registration update[PDF]
At Trisima, system operation based on JIS Q 14001: 2015, ISO 14001: 2015 has started, and as a result of review by a third party organization, registration renewal and transition to the 2015 version standard were approved. In July 2017 a new registration card was issued and the transition to the 2015 version standard was completed.
PAGETOP