Language switch Japanese Spanish Chinese
ESG Society
TOP > About Us > Corporate Social Responsibility (CSR) > ESG Society
In the social dimension of CSR, Torishima carries out various activities for all its stakeholders.
ISO9001
Torishima has been certified for ISO 9001, an international standard on quality management systems. This assures we deliver products, engineering, and maintenance services of a quality that satisfies customers and earns their trust.
Date
Registered company
February 1997
Torishima Pump Mfg. Co., Ltd. factories, (Japan)
Torishima Tokyo branch; Osaka, Kyushu, Nagoya, Sapporo, Sendai, Hiroshima, Takamatsu and Hiroshima offices; Okinawa,
Yokohama and Saga sales offices; Osaka private-sector sales department (Japan)
We are also increasing the number of ISO 9001 certified business establishments at domestic and overseas subsidiaries and branch offices.
Safety and Health Policy
Basic Philosophy
Torishima contributes to society through business activities that include the development and manufacture of pumps and related products. At the same time, we regard creating a safe, healthy environment—one where employees can work free of worries and where their health is maintained or even enhanced—as the basis of our QCD (quality, cost, and delivery) actions. We have thus formulated a basic policy on safety and health and are building a culture of safety and health that aims for a virtuous cycle. And we seek to be a vibrant company that continues to grow forever.
Basic Policy
1)

We are building an occupational safety and health management system based on ISO 45001 and aim to raise the level of safety and health through ongoing improvement activities.

2)

We identify hazardous factors in the workplace through risk assessments and take countermeasures on an ongoing basis so that we can reduce risks to an absolute minimum.

3)

We comply with all safety and health-related laws and regulations and company standards in an effort to further our safety and health management.

4)

We seek to create a comfortable workplace for everyone concerned by ensuring effective communication among Torishima employees and among other people working at Torishima sites.

5)

We strive to prevent incidents and aim for zero accidents and disasters by raising employees' awareness of safety and health through education and training.

6)

In executing safety and health activities, we invest the appropriate management resources and implement effective improvements on an ongoing basis.
1st April, 2020
Kotaro Harada,
President and CEO
Michihiko Ohie,
OHSMS General Manager
ISO45001
Business Continuity Plan (BCP)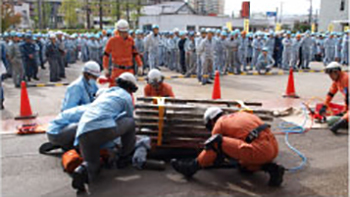 Torishima has prepared a BCP manual and gives instruction to employees on proper behavior during times of disaster. As part of these measures, a disaster drill to prepare for possible major disasters (including earthquakes and fires) was held on November 12, 2013. To ensure the safety of employees in the event of such a disaster, Torishima has reviewed and collected information on its action plans and manuals for taking emergency action in cases of disasters, including its Business Continuity Plan. The November 2013 drill was held under the assumption that an earthquake of magnitude 6 has occurred, and all departments in the Torishima headquarters participated.
Relationship with the General Public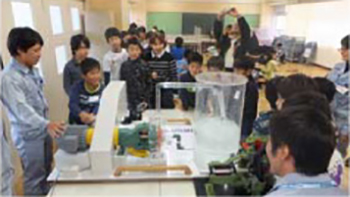 Every year, Torishima visits local elementary schools in Japan to teach children about pumps, manufacturing, and other topics. This gives us the opportunity to contribute to the local community and to children's education while also boosting the skills and motivation of Torishima employees.
Employee Education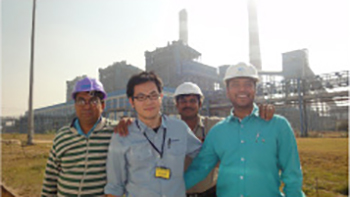 Torishima actively offers educational opportunities and support, such as providing technical training on pumps and on-the-job training for new employees. We also offer grants to help employees obtain a Ph.D. in engineering or a national technical qualification, and we facilitate distance learning and seminars by outside organizations to boost employees' skills. "Seeing is believing" is the motto for Torishima's overseas on-site training for young employees. The goal of this intensive training program is to enable employees to identify customer needs and the seeds of new business beyond national boundaries.

In addition, as part of CSR education, we conduct CSR training once a year.
Main contents of CSR training
1. Economic laws such as the Antimonopoly Act and the Subcontract Act
2. Internal Control (Financial Instruments and Exchange Act · Company Law)
3. Security trade control
4. Insider trading regulation
5. Road Traffic Act, Traffic Safety
PAGETOP