Language switch Japanese Spanish Chinese
Renewable Energy & Environment
TOP > About Us > Business Domains > Renewable Energy & Environment
Today, the issues of preserving the Earth's environment and reducing energy consumption are becoming increasingly serious. As a responsible global corporation, Torishima provides products and services that contribute to reducing the burden on the environment.
Reuse of wastewater energy
Drawing on its strengths as a pump manufacturer,
Torishima provides its clean and highly efficient reverse-rotated pump water turbines.
In water supply systems, which are an integral part of the lifelines sustaining human life and activities, it is a fact that a considerable amount of energy in water is wasted in the processes of controlling water flows to meet needs in differing seasons and times of the day. With this realization, Torishima developed its reverse- rotated pump water turbine systems, which use this energy, that was formerly wasted, for generating electric power. Since these systems significantly reduce electric power usage, orders not only from Japan but also from overseas, including Hong Kong and Kenya, are increasing.
Features of the Reverse-Rotated Pump Water Turbine
1

Zero impact on water quality

2

Low-cost products

3

Easy to maintain

4

Highly efficient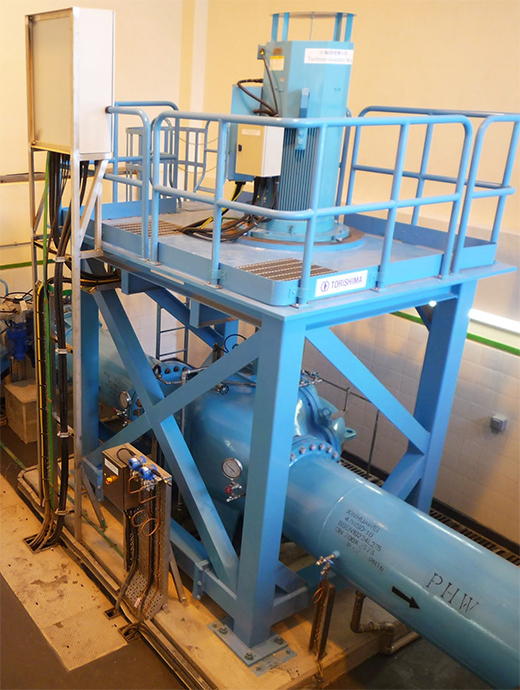 Reverse-rotated pump water turbine installed in Tuen Mun WTW in Hong Kong. This installation handles water flows of up to 76.4m3 per minute and generates power of up to 211.2kW.

Wind power generation systems
Minimize the environmental impact of our activities
by utilizing natural resources
Torishima promotes the use of renewable, clean energy resources aimed at reducing CO2 emissions through wind power generation and mini- and micro-hydro generation systems which reuse wastewater energy.
We provide total engineering solutions for wind power generation systems as well as wind assessment and location surveys including business plans, design, installation, and maintenance advice. We offer comprehensive customer support for our installed wind power facilities as well as those built by other companies.

100kW Windmill of Okinawa Kumejima

1500kW Windmill of Fukuoka Kitakyushu city (Kamiga area)
PAGETOP