Language switch Japanese Spanish Chinese
REDU®
TOP > Service Solutions > REDU®
What's REDU?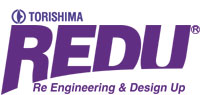 The REDU (Re Engineering and Design Up) service provides a review of pump specifications, regardless of the original supplier, and lengthening the useful lives of pumps. This service also includes the restoration and improvement of obsolete and worn parts as well as the replacement of parts. Using the latest technology, we can increase the efficiency and reliability of existing pumps.
Upgrade of hydraulic parts
The hydraulic parts Upgrade service analyzes the impellers, diffuser vanes, casing and other parts that significantly influence a pump's performance. With considerable experience and latest technology, we then offer a solution that will restore your pump to better than new condition at the same time, extend the life of equipment and reduce energy costs.
Coating
The coating service applies a coating with advanced polymer technology to the water-flow area, which can become rough due to wear. By applying advanced polymers we can rebuild, repair, protect and maintain all types of machinery and equipment from the effects of abrasion, erosion, corrosion and chemical attack. Also it makes the flow smoother and increase the pump's efficiency and performance.
PAGETOP