Language switch Japanese Spanish Chinese
Overhaul
TOP > Service Solutions > Overhaul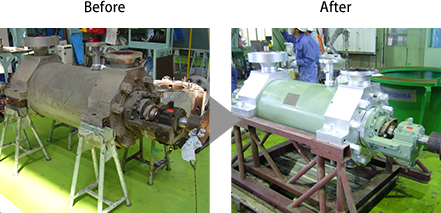 The overhaul division transports the customer's pump back to our service facility, disassembles the pump, and thoroughly inspects every component in detail. By repairing parts as necessary and replacing parts according to the customer's specifications, we can significantly improve the pump's efficiency and performance.
Regular Inspection and Maintenance Process
Cleaning

Residue / Corrosion Removal

Removing the residue/corrosion on impellers, diffusers and casings improves the performance and reduces the power consumption.
Inspection

PT Inspection

Check the condition of the sliding surface of the balance disk, seat, thrust collar and/or bearing shell and determine whether it can be reused or a replacement is required.

Clearance Inspection

Measure the existing clearance, which may cause a reduction in performance or pump failure.Determine whether the part can be reused or a replacement is required.

Run-out Inspection

Inspection the run-out of the shaft and ensure that the values are within the acceptable tolerances.
Parts Repair / Replacement

Casing Lapping

Repairing the roughness, acratches and distortion on the mating faces of the suction, intermediate & discharge casings improves the sealing performance.

Re-lapping

Re-lapping of the mechanical seal faces is conducted when necessary.
Balancing

Dynamic Balancing

Adjust the unbalanced rotor assembly and restore the rotor to its original condition.
Testing

Performance Test

After all maintenance completed, we conduct a performance test to confirm that the efficiency is improved.
Regular Inspection and Maintenance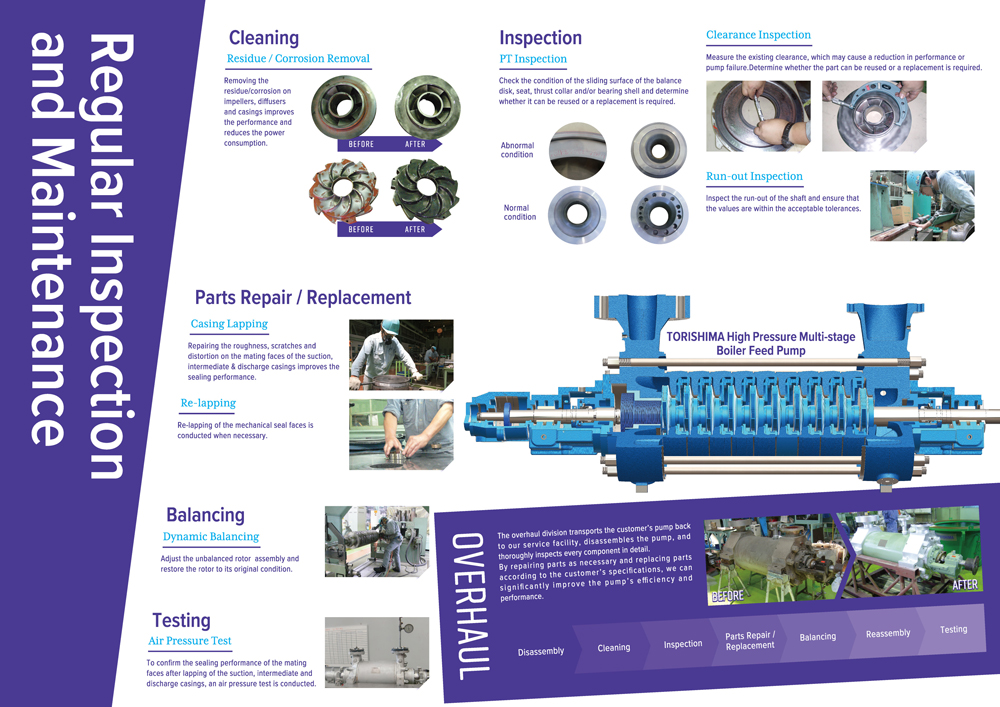 PAGETOP