Language switch Japanese Spanish Chinese
Torishima Service Solutions
TOP > Service Solutions > Torishima Service Solutions
World-class service solutions to maximize the life span
and efficiency of plants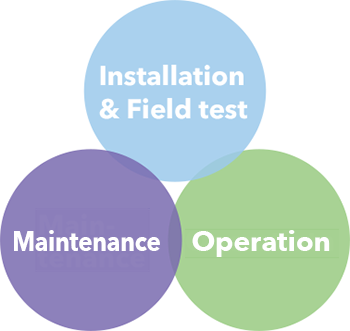 As a premier engineered equipment supplier, Torishima is committed to providing the highest quality aftermarket service. Our innovative solutions can enhance performance and increase the life span of pumps, other equipment and plants. This allows operators to maximize efficiency, reduce maintenance costs and conserve energy.
Installation & Field Test
Torishima provides field engineering service both domestically and internationally, to supervise pump installation work and equipment commissioning, ensuring the pumping equipment can meet customer expectations.
Maintenance, Overhaul, Operator Training
Torishima can provide experienced engineers who can advise on pumping equipment and plant maintenance. We can give advice on long term & short term maintenance requirements, spares inventory and overhaul requirements. We are also able to provide a range of training solutions for the plant operators.
Operation
Torishima undertakes the management and operation of the pumping facilities as a whole and supports our customers from all aspects such as safety, efficiency, economy.
PAGETOP