Torishima Pump Mfg. Co.,Ltd., Osaka Japan, is pleased to announce that our energy-efficiency initiative "Go Green with Pumps" has won the Minister's Prize, The Ministry of Economy , Trade and Industry in the Grand Prize for Excellent in Energy Efficiency and Conservation (Business Model Category). The Energy Conservation Grand Prize is sponsored by Japan's Energy Conservation Centre (JEC) and supported by the Japanese Ministry of Economy, Trade and Industry (METI) which aims to raise awareness of energy efficiency and to promote energy conservation activities.
What is "Go Green with Pumps"?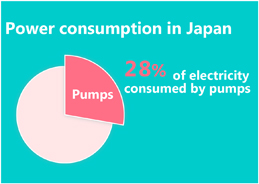 Pumps play a vital role in the processes behind the scenes of industrial plants, office buildings, commercial facilities, hospitals, hotels, etc. However, particularly with standard pumps, little attention has been paid to energy efficiency.
Torishima, as a leading pump manufacturer, has developed higher efficiency standard pumps - "Eco-Pumps". We have drawn on the vast experience and knowledge of high technology that we have cultivated in manufacturing large-sized high-efficiency pumps for a wide range of applications including power plants and seawater desalination plants.
Despite being standard pumps, the Eco-Pump is an extremely high efficiency pump.
The reason why we are so dedicated to this is that pumps consume enormous amounts of electricity while in operation. It is said that approximately 28% of electricity consumption in Japan is consumed by pumps. In other words, there is plenty of scope for reducing this power consumption by improving pump efficiency. It would also lead to a substantial reduction in CO2 emissions. This is why we "Go Green with Pumps".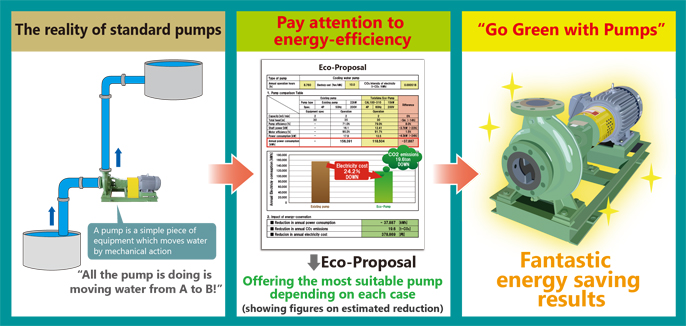 Average reduction in power consumption is 15.1%!!
How much energy conservation would you achieve? Prior to installation of pumps, Torishima presents an "Eco-Proposal" which illustrates the figures on estimated reduction in power consumption, CO2 emissions and electricity costs. The average reduction in annual power consumption is 15.1% but we have achieved beyond 30% and 40% reduction in some cases.

The secret of energy-efficiency
How is this energy saving achieved? We have used a number of techniques that we have developed in manufacturing large-sized high-efficiency pumps including hydraulic optimization, impeller trimming and use of a high efficiency motor.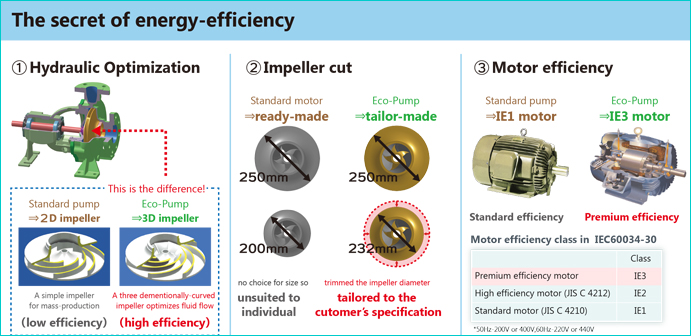 To further promote "Go Green with Pumps"
Torishima issues "Eco-Pump News" to let you know how much energy consumption you could reduce by merely reviewing pumping operations. You can find actual examples about our customers who installed the Eco-Pumps and achieved a drastic reduction in power consumption, CO2 emissions and electricity costs.
Award ceremony held in Tokyo
Torishima will attend the award giving ceremony held in Tokyo from 28th to 30th January 2015.
Taking this honour as further motivation, we are continuously striving to improve our products and services for all of our customers around the world.